So it's the middle of May and I'm still finishing off my "Winter in Review" series. In reality, I don't think it seems that inappropriate that I'm writing about winter activities given the current weather we've been having in Wisconsin… but don't get me started on that.

This year (New Years day to be exact) in conjunction with a Christmas/birthday gift from my Mother, I purchased the necessary gear to go snowshoeing. This included a pair of snowshoes, a pair of insulated hiking boots and a pair of gaiters. At the time of the purchase I was concerned we would not see enough snow during the winter to necessitate snowshoes, but as the winter unfolded my concerns were erased away by the massive amounts of snow that were dumped on Wisconsin during January and February.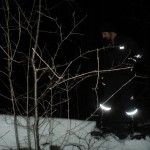 The first time I went snowshoeing this year, or ever for that matter, was out at Blue Mounds State Park. I went with a friend who I had been cycling buddies with for years. We went at 9 pm on a Sunday night with temps sitting around a balmy 17 degrees. We hiked up and down the hill and found the descents were actually pretty fun. Running, jumping, sliding, hucking all under the cover of night. It was new, it was fun and most importantly, for me that time of year, it raised my heart rate without the use of a bike or power meter. My friend and I returned to Blue Mounds later in the winter for another late night shoeing on Superbowl Sunday. That night was funny because I ditched out of every man's dream Superbowl party- free booze, free food, fashion models- so I could play in the snow. I guess it just reaffirms the fact I'd rather be outside doing something than inside spectating.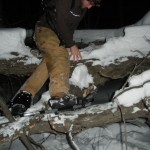 I also snowshoed quite a bit on lake Monona this winter with a fairly wide assortment of friends and even a client- again always at night. One memorable night a friend and I traversed through a snowstorm to a bar on the other side of the lake. All we could see was the faint distorted lights on the shoreline once we got on the lake. When we got to the bar I ordered a grasshopper. The bartender couldn't believe it. A lot of the times when my friends and I were out on the lake we'd come across slushy snow (known as overflow). That would always freak me out a bit. "What is water doing on the lake when we haven't seen a day above 32 degrees in well over a month. I don't know if I should be running on this." I'd think.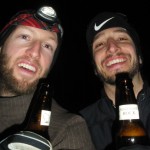 This year we lost our snow a bit earlier than I had hoped we would. I still had multiple snowshoeing adventures that I wanted to do. I tried to get a group of people together to snowshoe across the lake from Olin Park to Olbrich park, but the weather turned out to be too bitter cold for the likes of most so that got postponed. The next week the weather "broke" and the snow melted. I also want to go back to Blue Mounds and do a late night traverse through the middle of the park off the trails while tracking everything with a GPS. Depending on the snow conditions that could be a really hard hike. I think I'm going to have to invest in some poles before then. A friend and I also made some plans to go to some snowshoe races but we were never able to make it because of schedule conflicts. Again, hopefully next year. Lastly, I've fallen in love with the idea of getting a pair of Marquette backcountry skis for next year. I can't wait to try them.