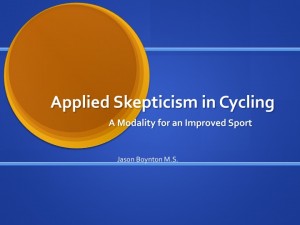 Since the middle of September I have been working hard on four webinars that I ended up presenting for USA Cycling. These webinars were presented every two weeks starting October 3rd. I'm happy to announce I'm finished with these webinars having presented the last one last Thursday while at the USAC level 1 clinic. I learned a lot from the experience and it really gave me a chance to further develop my coaching philosophy.


The four webinars started with an introductory presentation that discussed skepticism, critical thinking, and science as it applies to coaching. The three webinars that followed critically analyzed different aspects of cycling nutrition, testing, and recovery. More specifically these topics were: antioxidants in recovery supplements, blood lactate testing for cyclists, and compression garments as a recovery modality for cyclists. The general idea for all these presentations was to bust popular myths associated with the topics by looking at the available science and thinking about it critically.


For certified USA Cycling coaches these webinars are available in recorded form on the USA Cycling website. For individuals who are not a USAC certified coach and don't have access to the webinars, and would like to get the low down on the topics presented, you can either contact me directly or wait until these topics get presented in a blog format. I'd be more than happy to present these topics again to a captive audience!