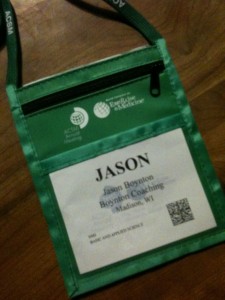 Last week I attended my third ACSM annual meeting. This year, unlike other years, I did not present research and I was not directly affiliated with a university. This trip was, in part, about learning what was new in the world of exercise science and how it could be applied to make my athletes perform better. To date I have never been disappointed with what I have walked away with from this conference.
From what I've found, attending conferences like this is one of the best ways to get new and cutting edge ideas for training athletes. Sanctioning bodies for coaches often offer great continuing education programs, but what is taught in these programs is often trickle down from research papers and conferences such as the ACSM Annual Meeting (two things I really try to keep my finger on the pulse of). My thought is it is better to get the information straight from the horse's mouth, so-to-speak, than wait for it to get to me down the road.
"Straight from the horse's mouth" drives my approach at these conferences. I try to attend as many talks and presentations as I can. This year I talked to a majority of the people I saw give talks right after their sessions. These are often leaders in their fields of research and are more than happy to answer questions and have conversations about what they've presented. This also puts me in a good position to ask questions in the future, because I always ask for business cards. It's an amazing way, I've found, to immerse myself in my field and meet really awesome people.
My hope in the future is to write a few blogs about the more intriguing things I saw this year, but until then it'll be all about applying new knowledge in the field with my athletes.