This weekend my father, 64 years young, participated in his first bike race. After a few years of riding bikes and training online with me, he decided he wanted to try his hand at what he had watched me do for years. Luckily, in Wisconsin we have a great citizen level racing series put on by Wisport. Here he could race against other beginners and people his age, but not have to deal with the technical challenges of racing in a crit at a WCA race.
This Saturday was a long time coming. A couple years back my dad weighed 265 pounds and had only mentioned in passing about maybe racing bikes someday, but at that point he didn't even own a bike. Then the point came, with some prodding from me, where my dad made the commitment to start taking better care of himself and focus more on his fitness. I helped him by getting him set up with one of my old bikes and posting him workouts online that would focus primarily on weight loss and aerobic fitness. We also focused on his eating habits and caloric intake. Dad's race weight this weekend was 210 lbs. His goal is 190 and he'll hopefully hit that this summer.
The race was held in Whitewater, WI. It was "windy as all hell" as my dad would put it. Temps were in the 60's. The course was a 24 mile out and back. Around 100 riders participated in the mass start event. My teammate/roommate and I also decided to participate in the race as a leg opener for our race on Sunday. After lots of talking with my dad about how important it was to stay with the pack as long as he possibly could the group was basically shattered by few faster riders on the front within the first mile or two leaving him riding by himself for a lot of the race (oops). After we finished our race my teammate and I rode out to my dad. He was in good spirits, despite his burning thighs and fighting one hell of a head win into the finish. Dad finished strong coming in around 1:30 for a finishing time. I talked to him this morning, he felt good the next day and he is already talking about his next race. Awesome! (Now to see if I can convince him to try cyclocross in the fall… anybody got an extra cross bike?)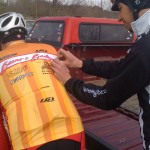 This weekend's race also had a lot of sentimental value for me. My father got my brother and I into go-kart racing at an early age (7 and 13). He had always hoped to race himself, but being the pit crew boss for a two go-kart team proved to be a "full time" job. For five years my father wrenched on our karts and drove my brother and I to the racetrack on just about every nice weekend there was. He sacrificed a lot so we could have our fun. Later on, when I got into bike racing and my brother got into autocross, my dad would come out and spectate/support us whenever he could. So this weekend, after years of watching my brother and I race, my father was finally able to compete himself. The rolls were reversed. I was the one talking the strategy, calming the pre-race jitters and pinning on the number. It was really cool.