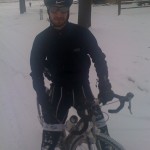 Despite what many people may think, winter is a great time to be active. For me, this winter especially was full of fun adventures and activities. In winters past I did exactly what I did through the summer- rode bike. All that would really change through the year would be the amount of clothing I wore and the type of bike I rode (if that). This year I opened myself up to some new winter endeavors, mainly: running, snowshoeing and skiing. After 5 winter off seasons spent just riding the change was welcome.
Even with incorporating a lot of new activities into my routine I still managed to ride quite a bit yet. This year I was really good about minimizing my time spent on the trainer and maximizing time spent outside. I gave myself trainer workouts that focused on specific physiological parameters that wouldn't take more much more than an hour to complete. After I finished these workouts often times I would do something aerobic and unstructured outside. I rarely spent more than 3 hours per week on the trainer this past winter, but still managed to exercise 10-12 hours per week on average. The best part, my power numbers were as high or higher (mostly higher) than previous winters.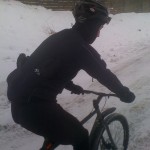 Besides just riding the trainer, I managed to ride quite a few hours outside this winter. Over the years I've managed to collect a substantial amount of winter riding gear and bikes for the cold snowy months. These items become pretty priceless when trying to avoid time on the trainer yet still get time in on the bike.
I have two primary bikes that I ride in the winter. First is my Trek XO1 cross bike that I throw fenders on and have two wheelsets/sets of tires for (studded and knobbies). I use this basically as a "winter road bike". The second bike I use is my Bianchi S.I.S.S. I only use this bike in the winter. It has fenders, and studded mountain bike tires. Someday I hope to put an internal hub on it in order to have more than one gear choice. The bike works well on bike paths with a few inches of snow on them and foot paths that have been packed down by pedestrians. I think of my S.I.S.S. as a kind of poor man's Pugsly. Mmm Pugsly, that would be a nice bike to have…